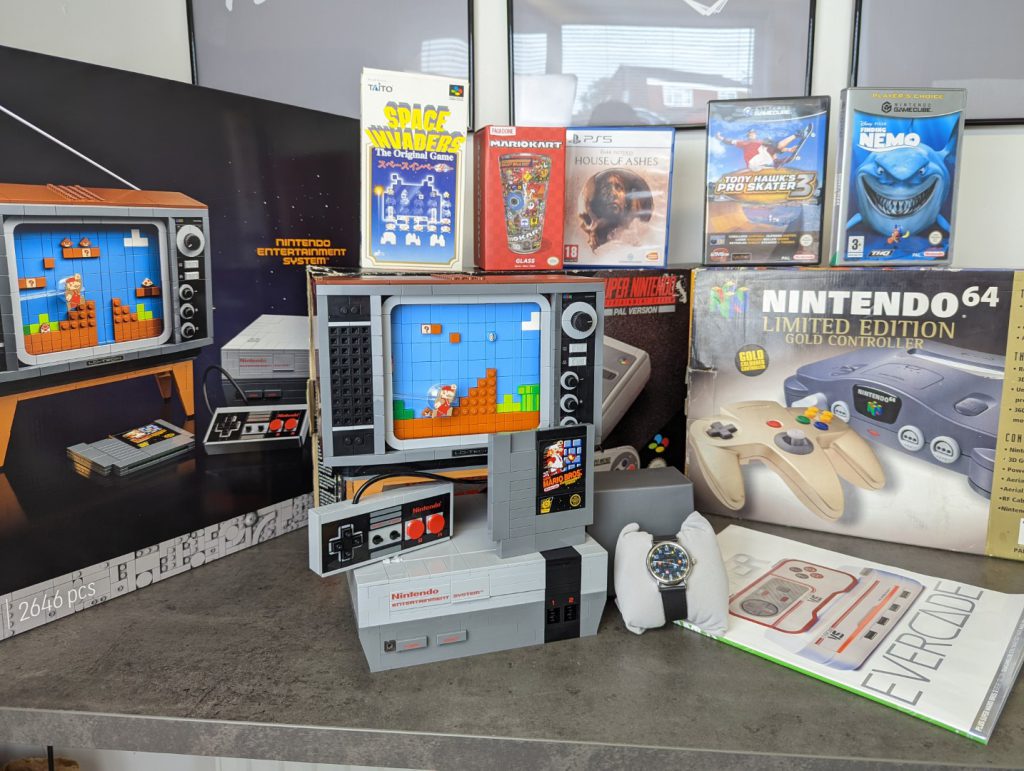 An expensive month for me this time, as I dipped my toe into collectable Lego, which is not cheap. I also managed to get a couple of boxed additions to the collection.
Disney / Pixar Finding Nemo – Nintendo GameCube
Guide Nemo and Marlin through their underwater adventure. Meet all of the characters from the Disney/Pixar movie, Finding Nemo, as you live all of the film's storyline. The search for Nemo is on, and it is up to you to find him. Dive in!
Features:
Live the film through the game and help reunite Nemo and his father Marlin.
Over 15 levels of action and adventure with multiple unlockable mini-games in each level.
Play as all 3 of the main characters from the film: Nemo, Marlin, and Dory.
3-D underwater environments.
Interact with all the characters from the film including Bruce, Crush, and the Tank Gang.
Features film clips that capture the essence of the movie.
Rating – Complete
Price Paid – £2.40 (Cash Converters)
Tony Hawk's Pro Skater 3 – Nintendo GameCube
Tony Hawk returns with an all new line-up of skaters, an all new line-up of parks to crash through, and a whole new level of graphics.
The line-up of street and vert riders include Elissa Steamer, Jamie Thomas, Steve Caballero, Rune Glifberg, Geoff Rowley, Andrew Reynolds, Rodney Mullen, Eric Koston, Chad Muska, Bucky Lasek and Bam Margera from MTV's Jackass (and Tony Hawk, of course).
The create a skater mode returns, allowing for even further levels of options for your character, like adding glasses and tatoos to changing the colour of the knee and elbow pads or even the hair.
And the levels themselves that you must skate through are now more interactive, with cars and humans blocking paths and making noise as you race around to make as many points as possible. Use items around the streets or the park to jump from or over to increase your score, and pull of as many wild and wacky tricks as you can.
Rating – Complete
Price Paid – £2.40 (Cash Converters)
Space Invaders: The Original Game – Nintendo Super Famicom
This version of Space Invaders is based on the 1994 arcade game Space Invaders DX but lacks the parody mode of that game. What remains is the classic mode that allows the player to choose the type of arcade cabinet (upright, black & white, etc.) as background to the action as well as the versus mode for two players. The versus mode is split-screen, each player trying to survive and eliminate more invaders than the opponent.
Rating – Complete
Price Paid – £24.99 (Cash Converters Online)
The Dark Pictures Anthology: House of Ashes – Sony PlayStation 5
The Dark Pictures Anthology is a series of standalone, cinematic branching horror games where the decisions you make in the game determine the story and the outcome you receive.
House of Ashes is the third game in the series.
In House of Ashes, at the close of the Iraq War, Special Forces hunting for weapons of mass destruction unearth something far deadlier – a buried Sumerian temple containing a nest of unearthly creatures. To survive the night below, they must forge a brotherhood with their enemies from the world above.
Navigate the underworld and escape a terrifying threat
Fight your way out of a buried sumerian temple against hordes of deadly monsters that have claimed you as prey.
The enemy of your enemy is your friend
This time, your crew is composed of 2 opposing factions that rarely see eye to eye. Can you put aside your character's rivalries to fight together as one ?
Don't play alone
The two critically acclaimed multiplayer modes are back. Share your story online with a friend or aim for safety in numbers through the offline 5-player pass-the-pad mode.
Rating – Complete
Price Paid – £25 (Game)
Paladone Mario Kart Drinking Glass
This tall, versatile glass tumbler is ideal for soft drinks, beer, a nice long cocktail or any other cool drink of your choice. With a capacity of 400ml (13.5floz) the outside of the glass features a highly detailed, printed, wrap-around montage design of famous characters and symbols featured in the Mario Kart franchise. Amaze your friends and family as you identify each of the icons in case there was ever any doubt that you are a super fan.
Price Paid – £5 (Smyths Toy Store)
Timex Weekender x PAC-MAN™ 38mm Leather Strap Watch
PAC-MAN™ burst onto the arcade scene and helped create a whole new kind of entertainment way back in 1980. We're introducing the iconic game's design to our classic Weekender watch, bringing the maze to life right on your wrist. PAC-MAN chomps his way around the dial positioned on the ticking seconds hand, and a hidden pattern is revealed within the dial itself when you press the crown in to light things up with INDIGLO®. The watch's 38mm silver-tone case is paired with a black genuine leather strap with quick-release spring bars, and offers a water resistance rating of 30 meters.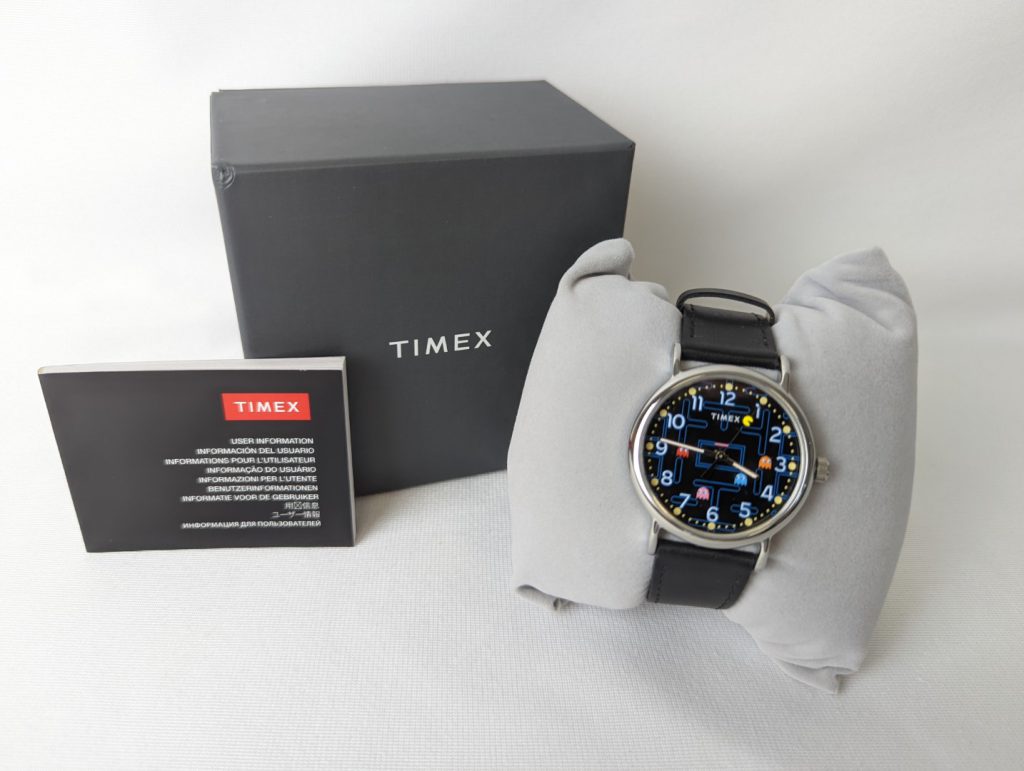 Please see separate page here
Price Paid – £47.20 (Timex)
LEGO Super Mario Nintendo Entertainment System Set
Recreate video games of the past with the LEGO Super Mario Nintendo Entertainment System set for adults. This advanced LEGO set makes a great gift for gamers who played Super Mario Bros. back in the day.
This nostalgic brick-built NES is packed with authentic and interactive details. There's an opening slot for the Game Pak with a locking function and a controller with a connecting cable and plug. The LEGO Super Mario Nintendo Entertainment System comes with a buildable retro TV, featuring a flat 8-bit Mario figure on the scrolling screen.
Scan the action brick with the LEGO Mario figure (not included; find in the LEGO Super Mario Starter Course set). LEGO Mario reacts to the on-screen enemies, obstacles and power-ups just like in the Super Mario Bros. game. The LEGO Super Mario Nintendo Entertainment System set is part of an inspiring collection of LEGO building sets for adults.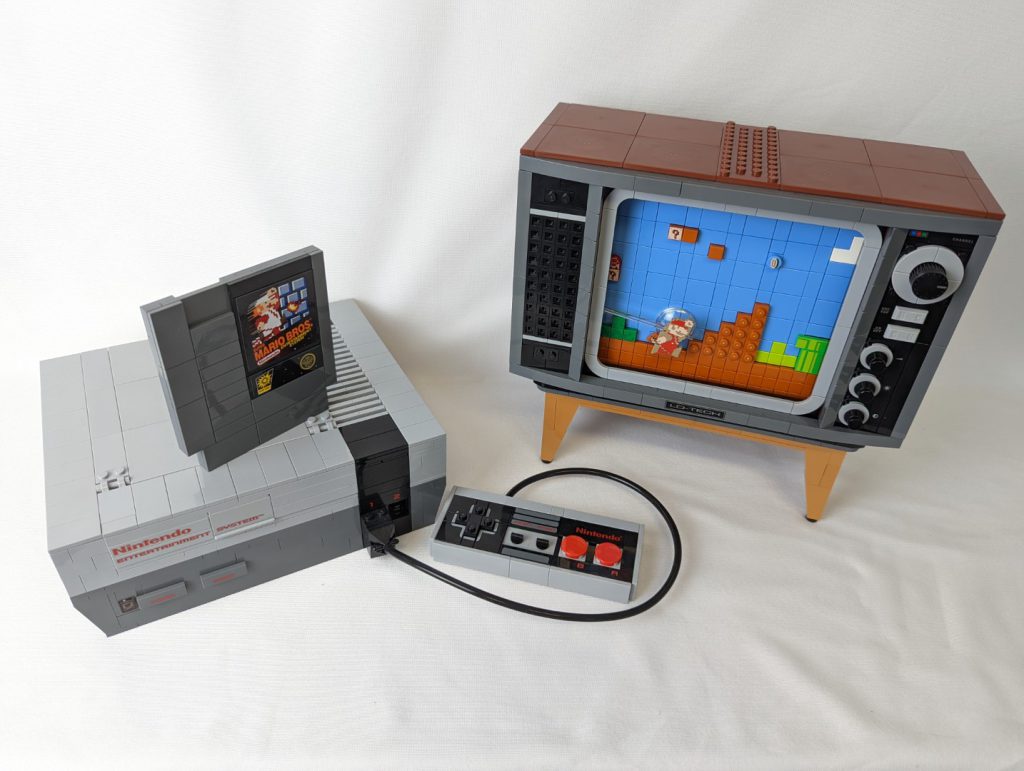 Please see page here for building progress.
Price Paid – £209.99 (Smyths Toy Store)
Nintendo 64 Limited Edition Gold Controller Variant
A Charcoal N64 bundled with a gold controller. It is estimated that between 10000 and 50000 of this variation were made
Had the opportunity to get this and I couldn't pass it up. Unfortunately it doesn't have the gold controller, but I can pick one up quite cheap.
Rating – Boxed, No Manual
Price Paid – £96 (Cash Converters)
Super NES Control Set Variant
Official release by Nintendo
Released in Europe in 1992
Region code: PAL
More than 1000000 were made
Bundled with 1 controller
I already have a boxed SNES, but there's just something about this variant that appeals to me.
Rating – Boxed, No Manual
Price Paid – £96 (Cash Converters)
Retro Gamer Magazine #226
Retro Gamer is a British magazine, published worldwide, covering retro video games. It was the first commercial magazine to be devoted entirely to the subject. Launched in January 2004 as a quarterly publication, Retro Gamer soon became a monthly.
I have had a subscription to Retro Gamer for a few years now, it is a great resource. This issue features interesting articles about The Evercade VS console, Alladdin on the Master System, The SNES and Project Zero: Maiden Of Black Water.