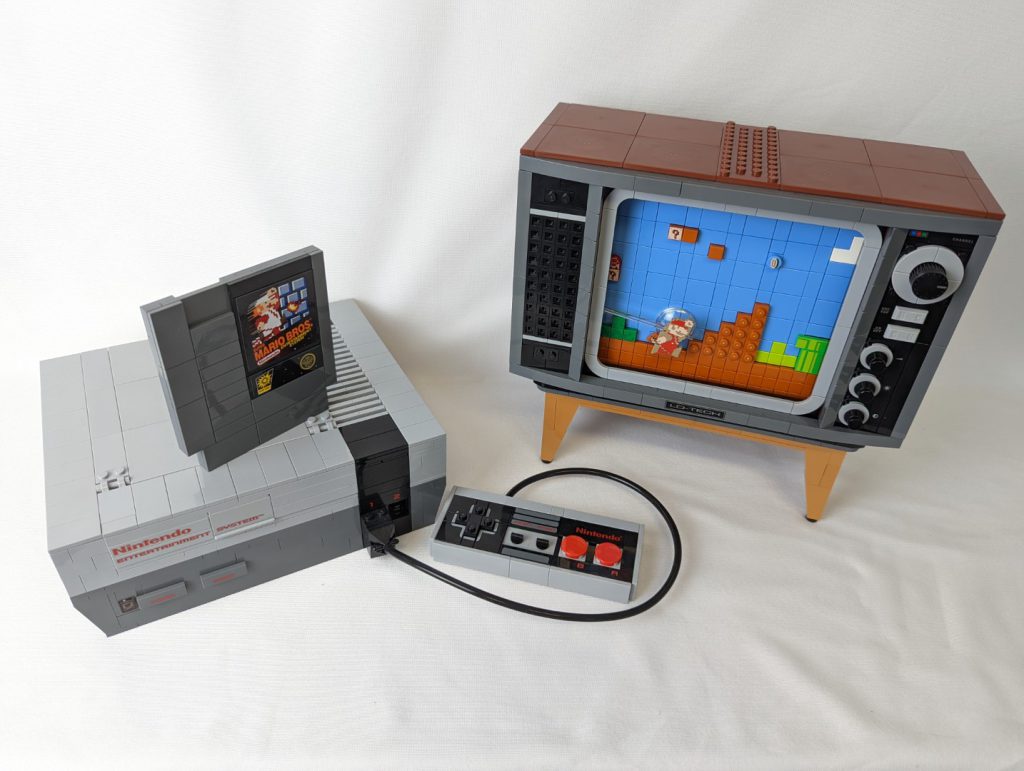 Recreate video games of the past with the LEGO Super Mario Nintendo Entertainment System set for adults. This advanced LEGO set makes a great gift for gamers who played Super Mario Bros. back in the day.
This nostalgic brick-built NES is packed with authentic and interactive details. There's an opening slot for the Game Pak with a locking function and a controller with a connecting cable and plug. The LEGO Super Mario Nintendo Entertainment System comes with a buildable retro TV, featuring a flat 8-bit Mario figure on the scrolling screen.
Scan the action brick with the LEGO Mario figure (not included; find in the LEGO Super Mario Starter Course set). LEGO Mario reacts to the on-screen enemies, obstacles and power-ups just like in the Super Mario Bros. game. The LEGO Super Mario Nintendo Entertainment System set is part of an inspiring collection of LEGO building sets for adults.
The build progress of the NES
The build progress of the TV
Finished Set
The completed set in action
LEGO NES compared to an actual console
I had wanted this for a while. I haven't had a LEGO set since I was a kid. This was a joy to build. In the end it took me around 8 hours or so to assemble, but it really did fly over. The instruction booklets were very easy to follow, which got me thinking that IKEA should hire the people who put these books together.
The set is very intricate with amazing bits if ingenuity. What amazes me is that even the bits you don't see are very well detailed, which can only be seen when building.
The set features a loading mechanism on the console, as well as the cartridge to go inside it. The TV set portion features a rotating dial which when used, makes Mario on the TV progress through the level. It cannot be stated enough how much I love this set.
Price Paid – £209.99 (Smyths Toy Store)