Nintendoland – Nintendo WiiU
Nintendo Land is a collection of mini-games designed to showcase various features of the Wii U GamePad. Set inside a virtual theme park of the game's namesake, each of the twelve games, referred to as "attractions" is inspired by a classic Nintendo franchise.
The games are split into three categories: 3 co-op, 3 competitive and 6 solo games. Co-operative games include The Legend of Zelda Battle Quest, Pikmin Adventure, and Metroid Blast. The competitive games are Mario Chase, Luigi's Ghost Mansion, and Animal Crossing Sweet Day. The solo games are Donkey Kong's Crash Course, Captain Falcon's Twister Race, Octopus Dance, Takamaru's Ninja Castle, Yoshi's Fruit Cart, and Balloon Trip Breeze.
The game includes an interactive hub world from which the player can access each of the attractions, though they can quickly be accessed from a menu. As you play, you'll earn coins which you can use to purchase various items to populate the hub world. In addition to the Wii U GamePad, Wii Remotes, including the motion plus, as well as nunchucks are required to get the most of of the attractions.
Rating – Complete
Price Paid – £4.80 (Cash Converters)
---
Super Smash Bros For WiiU – Nintendo WiiU
Super Smash Bros. for Wii U is, along with its 3DS counterpart, the fourth entry in Nintendo's crossover fighting franchise, featuring dozens of characters from across Nintendo's catalog, along with a few special guests. The basic formula is unchanged since the previous title: up to eight characters, controlled by either human players or the computer, duke it out in arenas based on Nintendo games; the list of available stages on the Wii U largely differs from the 3DS game's offerings. As characters take damage, they are sent flying further by attacks, and if they fly — or fall — out of the arena, then they're out!
Most of the fighters from previous entries have returned, along with numerous newcomers, including Mega Man, Pac-Man, Little Mac (Punch-Out), Shulk (Xenoblade Chronicles), Palutena (Kid Icarus), Villager (Animal Crossing), and numerous others for a total of more than three dozen playable characters. It is also possible to design a custom Mii-style fighter using parts and abilities unlocked throughout the game; this character can also be transferred for use in the 3DS version of the game.
The game includes standard 2-to-4-player battle modes, including both time and stock matches, playable via either local wi-fi or internet play. Certain stages in the game support 2-to-6 or 2-8-player battles, but only for local play. Returning from previous entries is the All Star mode, where the player must defeat all other characters in the game in order, with only limited healing items available. The trophy collection system introduced in Melee also returns, giving players a glimpse at classic and modern Nintendo characters and other objects in full 3D.
Rating – Boxed No Manual
Price Paid – £6.40 (Cash Converters)
---
Sonic Chaos – Sega Master System
The inhabitants of South Island are in danger! Dr. Robotnik has stolen all the Chaos Emeralds which kept the power balance. Robotnik has thrown the Emeralds in a parallel universe and is keeping the red one. Sonic and Tails must retreive all the Chaos Emeralds before the destruction of South Island.
Rating – Boxed No Manual
Price Paid – £16 (Cash Converters)
---
Hyperkin Supaboy S Portable SNES Console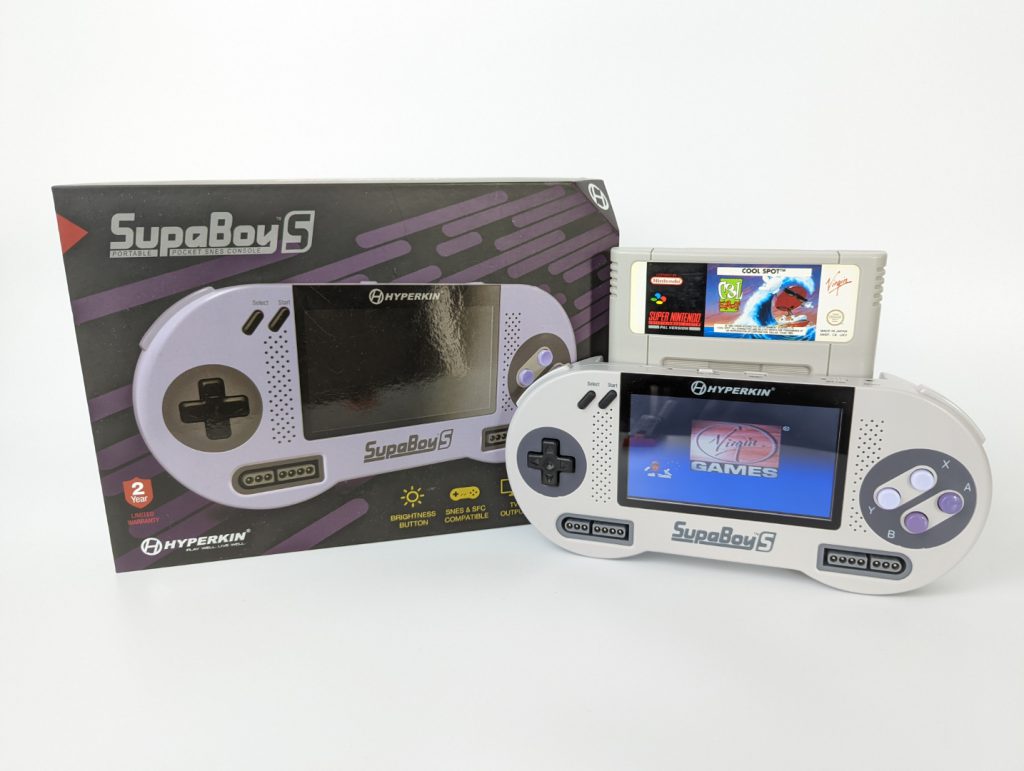 For more info please visit here
Rating – Complete
Price Paid – £71.99 (Cash Converters)
Top 10 Quest Progress – 5/10