Sadly, this will be the last monthly gaming box. The missus has decided that she doesn't want to continue looking and buying things for me, maybe the pressure was too much, or maybe she just doesn't love me anymore, who knows. But I think we can all agree that she has done a stellar job of the boxes.
ChessMaster – Nintendo Game Boy Color
The world's most-respected chess program invites everyone to play history's greatest game. With over 4 million sold, Chessmaster has become the perfect chess companion for all age groups, and skill levels.
16 difficulty levels to challenge Beginners to Grandmasters
Various styles of play offer more depths for Experts
2 player mode
The most powerful chess program for the Game Boy Color System!

---
Mech Platoon – Nintendo Game Boy Advance
A real-time strategy (RTS) game for the GBA. Players build an army of robot mechs to capture 5 planets in a series of missions against two other nations. A player's mechs are built and improved by building laboratories, bases and by salvaging battlefields for enemy parts. All the key elements of a classic RTS in your GBA.

---
Super Monkey Ball Jr – Nintendo Game Boy Advance
Based on the GameCube series of the same name, Super Monkey Ball Jr. has you in control of 3D style arenas, each with a varying degree of difficulty and objectives. Your little monkey, inside a ball, relies on your movement of the arena to get to the required objectives (collecting items, getting to the finish line in under a certain time limit, etc.).
Apart from the single player puzzle experience (which includes more then 60 arenas), up to four people can play a collection of mini-games (which you must unlock in the single player game). Play monkey bowling (aka ten pin bowling), monkey fight (knock the other three players' monkey ball out of the circle arena) or an 18 hole mini golf challenge.

---
Mario Kart – Pull Back Racers Blind Bag
Nintendo licensed Mario Kart racers, with a pull back and go mechanism. Collect 10 of your favourite characters and have the best races with your friends.
Features:
• Race along with your favourite Mario pals.
• Fan favourite Mario Kart figures.
• Collect all 10 car figurines.
---
Ms Pac Man Mini Arcade
The most popular arcade games from decades past have reemerged in a miniature size! Mini Arcade Games are scaled down versions of classic games featuring authentic game play and nostalgic appeal, with retro-styling and sounds just like you remember!
Replica mini arcade game looks, sounds and plays like the original! Perfect for fans or collectors looking to share this classic with the new generation.
Ms. Pac-Man, one of the most popular videogames of all time, features the beloved character moving through the maze to eat pac dots while avoiding the ghosts – help her get a power pellet to temporarily eat the ghosts and score bonus points!
---
Super Mario Trading Card Collection
Whether you're an avid Super Mario fan, a casual gamer or a newcomer to the colourful world of Mario, Luigi and Co., there are great trading cards to discover here for everyone!
With over 387 million video games sold worldwide, Super Mario is one of the best-selling game series of all time. Panini launches the first Trading Cards collection for this popular video game franchise!
Collect all 252 cards, including 72 Special cards (sold separately)
Look out for special foil cards & 9 limited edition cards
Each pack contains 8 cards
---
Atari T-Shirt
This is an officially licensed T-shirt sporting the Atari logo.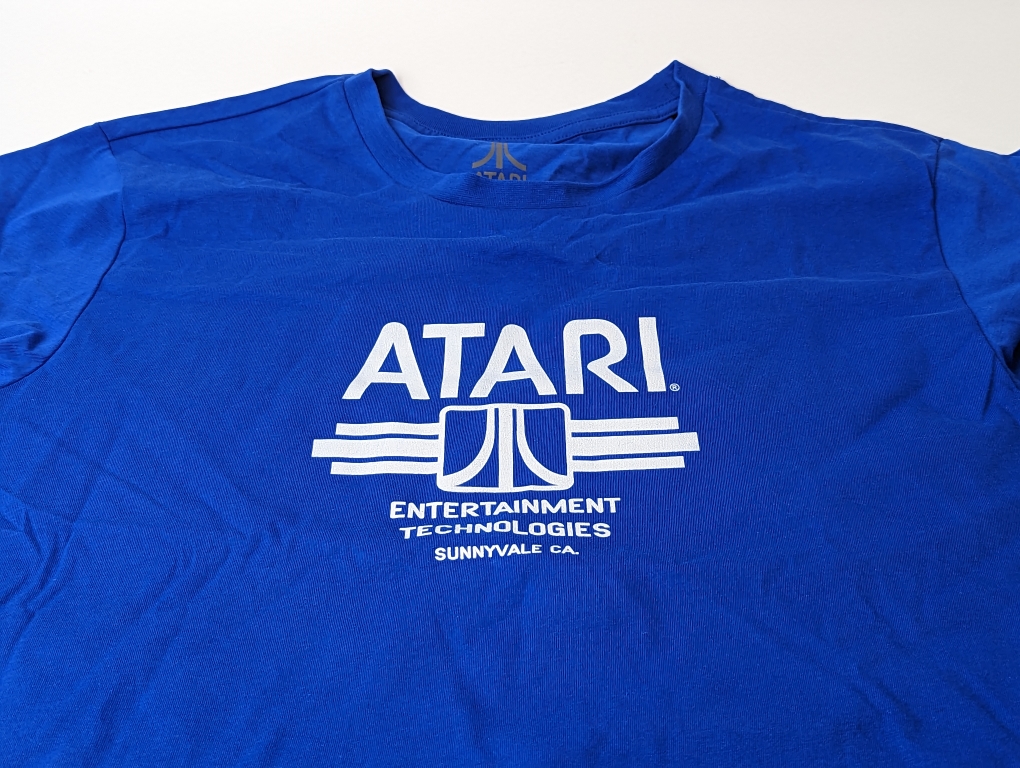 ---
PALADONE Tetris Icons Light
Relive the classic Tetris game in your living room with Tetris Icons Light. This 30cm wide and 13cm high lamp is an original way to show appreciation for this iconic, beloved game that was introduced in the 1980s. With its unique design, it is a perfect addition to any home theater or game den. In addition, you can use it as a night light on a bedside table by your bed.
Powered by a USB cable (included) or 3x AAA batteries (not included), this lamp creates the ultimate ambiance with three customizable display modes. Switch between standard lighting, color phasing and music reactive and enjoy a cozy yet lively atmosphere in your room! Tetris Icons Light is made from the highest quality materials to ensure excellent long-term performance.
Illuminate your gaming corner or make the workplace a little more at home with this stylish lamp and create the perfect atmosphere. This Tetris lamp is perfect for the game enthusiast as a gift or decorative lamp.