Another month, another personalised gaming box. Lets dive in.
Mario Kart – Pull Back Racers Blind Bag
Nintendo licensed Mario Kart racers, with a pull back and go mechanism. Collect 10 of your favourite characters and have the best races with your friends.
Features:
• Race along with your favourite Mario pals.
• Fan favourite Mario Kart figures.
• Collect all 10 car figurines.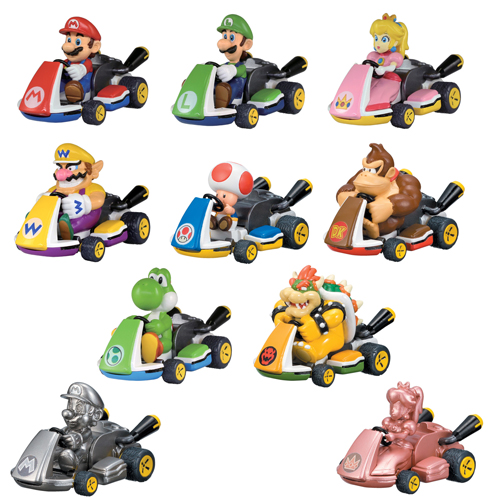 ---
Super Mario Trading Card Collection
Whether you're an avid Super Mario fan, a casual gamer or a newcomer to the colourful world of Mario, Luigi and Co., there are great trading cards to discover here for everyone!
With over 387 million video games sold worldwide, Super Mario is one of the best-selling game series of all time. Panini launches the first Trading Cards collection for this popular video game franchise!
Collect all 252 cards, including 72 Special cards (sold separately)
Look out for special foil cards & 9 limited edition cards
Each pack contains 8 cards
---
Daredevil – Nintendo Game Boy Advance (2003)
Be the "Man Without Fear!", Daredevil along with his trusty bullyclub as he scales New York in his never ending duty to protect and serve. Be Daredevil as he takes on New York's villains and crimelords such as Kingpin, Elektra, Bullseye and Sewer King. An on-screen radar will activate your other 4 super-keen senses as you battle criminals. This game is only for the Game Boy Advance.
Rating – Complete
---
MTV Sports: Skateboarding – Nintendo Game Boy Color (2000)
MTV Sports: Skateboarding Featuring Andy Macdonald is an isometric skateboarding game for the Game Boy Color. You can choose to play 4 different skateboarders, including Andy Macdonald. You can grind objects, perform ollies, grabs and 360s. There are 18 different cities to stunt around in. You score points through performing tricks and achieving objectives such as finding MTV icons. Unlocked cities can be played in at will in the Free-Skate mode.
Rating – Complete