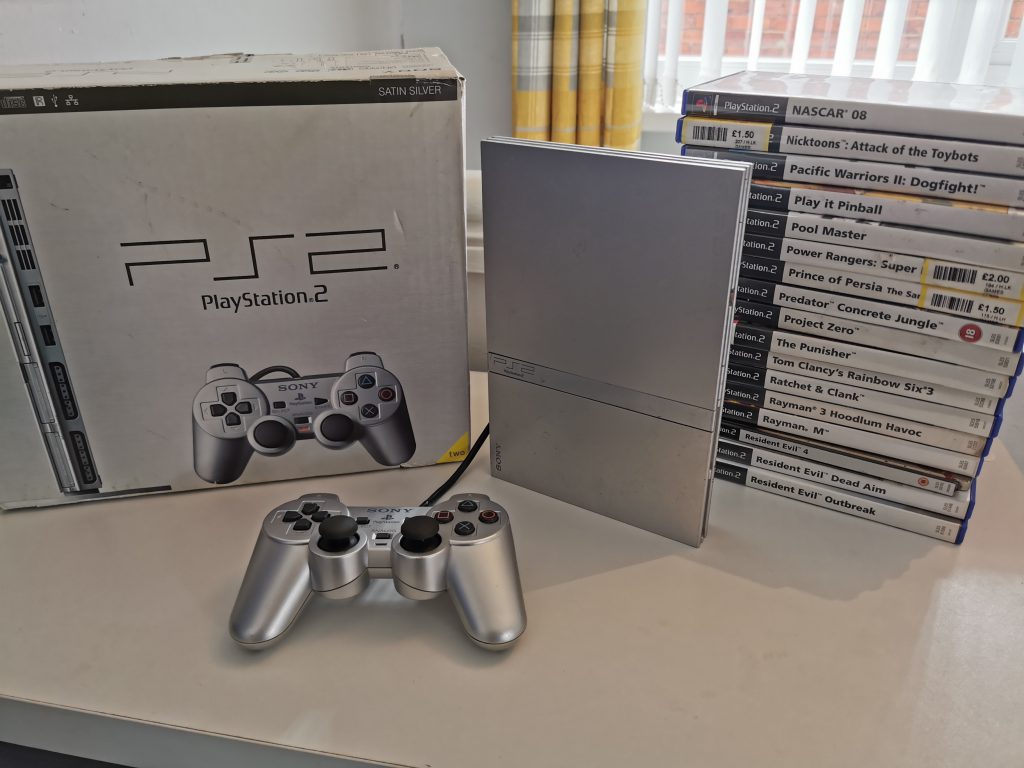 The Sony Playstation 2 was released in the year 2000 as part of the 6th generations of games consoles.
The Playstation 2 (PS2) offered full backwards compatibility with the original Playstation's lineup of games as well as its Dualshock controller. The PS2 is the most successful home console to date having sold over 155 million units worldwide.
In 2004, Sony revealed a newer, slimmer PS2 to coincide with the launch of Grand Theft Auto: San Andreas. it was smaller, thinner, and quieter than the original version.
The PlayStation 2's DualShock 2 controller is largely identical to the PlayStation's DualShock, however, it includes analog pressure sensitivity replacing the digital buttons of the original. Like its predecessor, the DualShock 2 controller has force feedback, or "vibration" functionality. It is lighter and includes two more levels of vibration.
I have the metallic silver and the matt black versions of the slimline PS2. I think the slimline is an improvement over the original in every way. It looks sleek and modern and it has been vastly reduced in size from the first iteration. I originally purchased the slim PS2 very close to release, primarily for 1 game and that game was Resident Evil 4, which I purchased on release day and took a few well-earned days off Uni to play it. Despite this console having stayed with me for 15 years right now, it has remained reliable and is a usable and quiet today, as it always was. The controller is in my eyes, Sony's best and while it could be argued that improvements have been made in the Dualshock controllers that have come after, I think they perfected the controller design here.
I have a memory card I use with my PS2 which has the Free Mcboot exploit loaded onto it.  Free McBoot allows the use of homebrew on unmodded systems.
Owned Games –
007, Agent Under Fire
007, Nightfire
007: From Russia With Love
24 : The Game
America's 10 Most Wanted
Bad Boys 2
Beyond Good & Evil
Bionicle Heroes
Black
Brave: The Search For Spirit Dancer
Brothers In Arms: Road To Hill 30
Burnout
Burnout 2: Point Of Impact
Burnout Revenge
Burnout: Dominator
Bust-A-Block
Buzz! Junior Jungle Party
Canis Canem Edit : Bully
Capcom Classics Collection Vol 1
Commandos 2: Men Of Courage
Conflict Vietnam
Conflict: Desert Storm
Crash Bandicoot: The Wrath Of Cortex
Crash Tag Team Racing
Crazy Taxi
Dino Stalker
Donald Duck:Quack Attack
Driv3r
Driver: Parrallel Lines
Dynasty Warriors 4 – Empires
Endgame
Eternal Ring
Flatout 2
Free Running
Ghost Hunter
God Of War
Goldeneye: Rogue Agent
Gran Turismo 3: A-Spec
Gran Turismo Concept
Grand Theft Auto : San Andreas
Grand Theft Auto 3
Grand Theft Auto: Liberty City Stories
Grand Theft Auto: Vice City
Guitar Hero 3 : Legends of Rock
Half Life
Headhunter
Hitman : Contracts
Hyper Street Fighter II : The Anniversary Edition
Ice Age 2: The Meltdown
Intellivision Lives
International Cue Club
Just Cause
Killzone
Kingdom Hearts
Kingdom Hearts II
Lego Racers 2
Manhunt
Mashed: Fully Loaded
Max Payne
Max Payne 2
Maximo
Medal Of Honor: Rising Sun
Metal Gear Solid 2 : Sons of Liberty
Metal Gear Solid 3 : Snake Eater
Midway Arcade Treasures
Mortal Kombat: Deadly Alliance
MotoGP
Motor Mayhem
MTV Music Generator 2
Nascar 08
Nicktoons: Attack Of The Toybots
Pacific Warriors II – Dogfight
Pinball
Pool Master
Prince Of Persia: The Sands Of Time
Project Zero
Rainbow Six 3
Ratchet & Clank
Rayman 3: Hoodlum Havoc
Rayman M
Resident Evil : Code Veronica X
Resident Evil : Dead Aim
Resident Evil : Outbreak
Resident Evil 4
Rule of Rose (copied disk – I'm not made of money)
Sega Superstars
Shadow Man 2econd Coming
Silent Hill 2
Silent Hill 3
Silent Hill 4: The Room
Silent Hill Origins
Smackdown: Just Bring it
Smugglers Run
SNK Vs Capcom: SVC Chaos
Sonic Heroes
Sonic Mega Collection Plus
Soul Calibur II
Space Invaders Anniversary
Space Invaders: Invasion Day
Spartan: Total Warrior
Spiderman
Splinter Cell
Spongebob Squarepants the Movie
Spyro: A Heroes Tale
SSX Tricky
Star Trek: Encounters
Star Wars Episode III: Revenge Of The Sith
Star Wars: Battlefront
Star Wars: Jedi Starfighter
Summoner
Tekken 4
Tekken Tag Tournament
Tenchu : Wrath Of Heaven
The Getaway
The Punisher
The Simpsons Game
The Simpsons Skateboarding
The Simpsons: Hit And Run
The Simpsons: Road Rage
The Terminator: Dawn Of Fate
The Warriors
Time Crisis 2
Timesplitters
Tom Clancy's Ghost Recon
Tom Clancy's Ghost Recon 2
Tomb Raider: Legend
Twisted Metal: Black
Underworld: The Eternal War
Worms 3D
X-Men: The Official Game