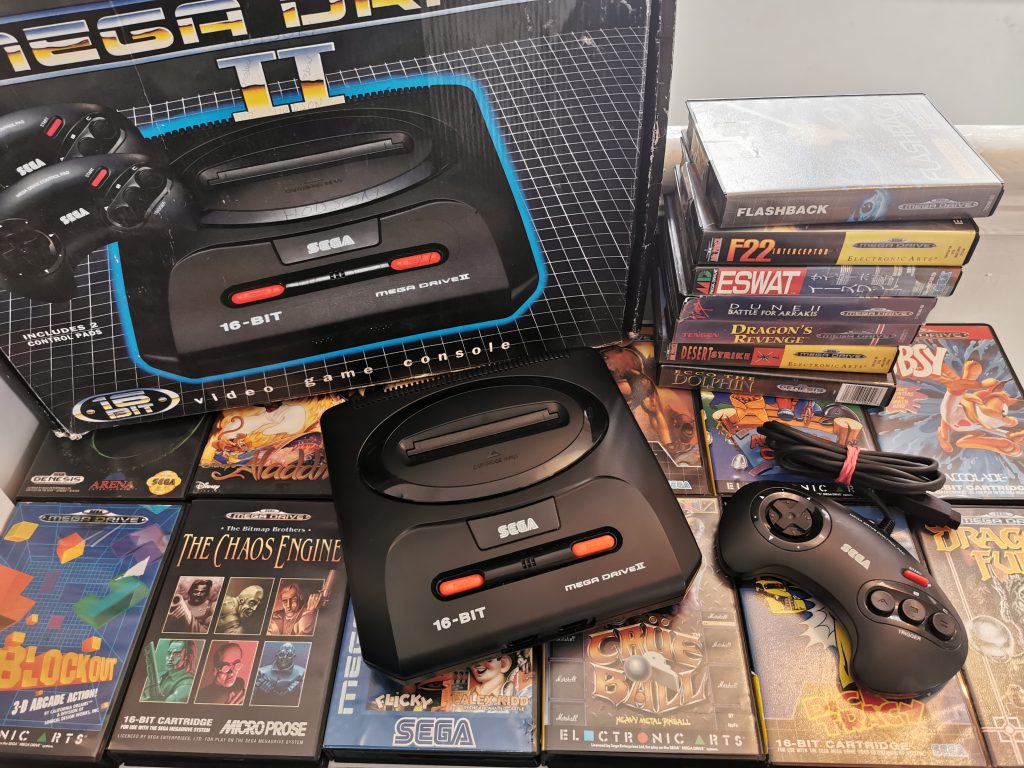 The Sega Mega Drive 2 was released in 1993 as an update to the original Mega Drive. This version removes the headphone jack in the front, replaces the A/V-Out connector with a smaller version that supports stereo sound and also runs on less power than it's previous model. More revisions include, changing the power switch into a button and the reset button was moved opposite the power button. This version is also compatible with the 32X and works with the Sega CD version 1, but was designed to be paired with the Sega CD model 2.
The bundled controller remains 99% unchanged from its previous iteration, changing only the colour of the start button.
Maybe it's just nostalgia talking, but I'm not a fan of the design of this console. I think it lacks any kind of personality that the original had. The original looked like an imposing beast whereas this just looks like a curvy slab of plastic.
Price paid – £30
Owned Mega Drive games –
Aladdin
Alien 3
Altered Beast
Another World
Blockout
Bubsy
Castle of Illusion Starring Mickey Mouse
Classic Collection
Crue Ball
Desert Strike
Dick Tracy
Disneys Talespin
Disneys Toy Story
Dragon's Fury
Dragon's Revenge
Dune 2 : Battle For Arrakis
Ecco The Dolphin
E-swat
Eternal Champions
F22 Interceptor
Fantastic Dizzy
Flashback
Galaxy Force 2
Golden Axe
Golden Axe 2
Gynoug
Jimmy White's Whirlwind Snooker
Jungle Strike
Mega Bomberman
Mega Games 1
Mega Games 2
Mega Games 3
Mickey Mania
Micro Machines 2: Turbo Tournament
Mortal Kombat 2
NBA Jam
Olympic Gold
PGA Tour Golf
Powermonger
Road Rash 2
Rolo To The Rescue
Skitchin
Sonic & Knuckles
Sonic Spinball
Sonic the Hedgehog
Sonic The Hedgehog 2
Sonic The Hedgehog 2 (Jap)
Sonic The Hedgehog 3
Streets Of Rage 2
Summer Challenge
Super Kick Off
Super Wrestlemania
T2 The Arcade Game
Taz Mania
Techno Clash
The Aquatic Games
The Chaos Engine
The Flintstones
Two Tribes : Populous 2
Urban Strike
Virtua Racing
World Of Illusion Starring Mickey Mouse And Donald Duck
Xenon 2: Megablast
Zany Golf