The Nintendo Switch was released in 2017 during the 8th generation of games consoles and is a hybrid handheld / full fledged home console.
The Switch is aimed at a wide demographic of video game players through multiple modes of use. There are three gameplay modes that can be used with the Switch; "TV Mode" with the Console slid into the Dock to support play on a television, "Tabletop Mode" with the Console placed on a table or other flat surface using its kickstand for shared gaming away from a dedicated screen, or in "Handheld Mode" as a standard portable tablet device. The Switch features a novel idea with its controller configuration, the 2 "joycons" on either side of the consoles are attached to the Switch console via side rails using a locking mechanism, however these can be detached and used separately for 2 player games, or they can be attached to a grip that emulates a classic gamepad form factor.
within a year of it's release, the Switch had already outsold the lifetime sales of it's previous console the Wii U.
The Nintendo Switch (OLED Model) is the third model in the Nintendo Switch line. It was launched worldwide on October 8, 2021,
The OLED model's main new feature is the 7-inch OLED screen. The screen is larger than the original model, with reduced bezels. The OLED screen producing higher quality than the standard LCD display with darker blacks and brighter whites. Beyond the screen, the OLED model has improved speakers, a new adjustable stand and more built-in memory at 64GB. The stand is much wider than the original model, covering the width of the Switch console and can be adjusted to a multitude of angles. The console itself is a bit larger than the original model.
The OLED Model comes with a revised dock, that is available separately. The dock is a bit larger and deeper than the original. It substitutes the USB port inside the dock with a LAN port. The LAN wire is sold separately.
I had the opportunity to trade in my original model of the switch in order to get this upgraded model. I was originally going to hold on to my OG switch as it had not been patched by Nintendo, meaning that it was possible to mod. However I had not modded it since getting it, so in all likeliness I would never would have modded it. So I decided to trade up. I only had £42.50 left to pay for the upgrade. The advantage of the OLED model to me was huge, as I never play my switch docked I would really see the benifit of a newer improved screen.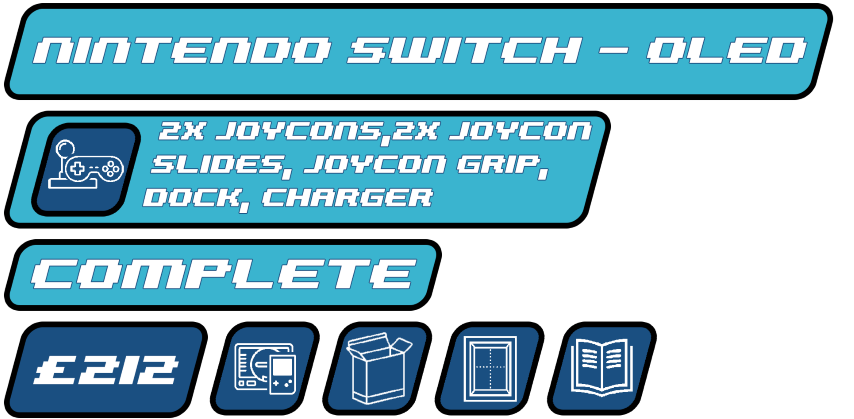 Top 10 Quest progress